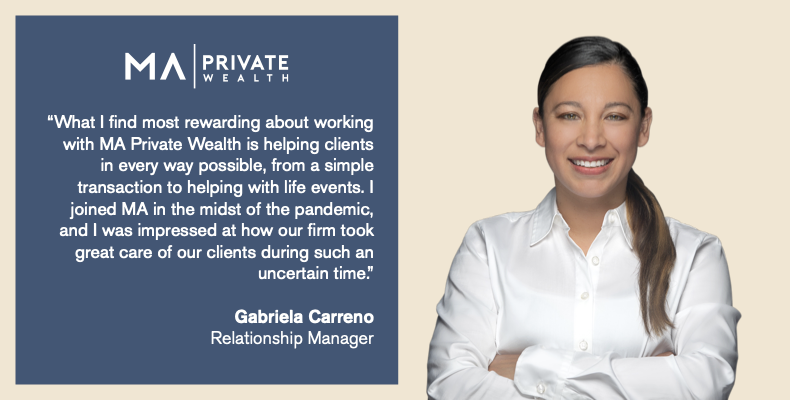 Gabriela Carreno's current role as Relationship Manager at MA Private Wealth truly allows her to flourish, building off a 17 year track record of customer-service success.
As a previous Relationship Manager in the wealth management division of a multinational investment bank and financial services corporation, Gabriela can fully appreciate the boutique, white-glove experience MA Private Wealth can offer both clients and its tight-knit group of team members.
I just love being part of a team like this," she says when asked about what she enjoys most about her position. "What I find most rewarding about working with MA Private Wealth is helping clients in every way possible, from a simple transaction to helping with life events. I joined MA in the midst of the pandemic, and I was impressed at how our firm took great care of our clients during such an uncertain time. I know my teammates feel the same way. I love to be part of a group where everyone is on the same page, trying to accomplish the same goals for our clients."
While Gabriela specializes in all things client services, her specific focus at MA Private Wealth is managing the onboarding experience for new clients. Gabriela reflects, "I'm dedicated to helping people, and I have great relationship building qualities. This allows me to quickly build connections with our new clients and simplify things to make a great experience for them."
Like many of her other team members, Gabriela cherishes all things outdoors - hiking mountains, running on trails, and taking photographs of all the places she climbs. She takes a new group of teens and young adults to Yosemite each year to share her passion and knowledge of the area. She also volunteers with at-risk youth and low-incoming families over the summer, managing a series of Outdoor Activity sessions.
Gabriela believes her training and support received at MA Private Wealth will give her the chance to continue to develop in her role and provide high touch point service to clients.
To reach Gabriela Carreno, please call 650.232.2021 or email gabriela@maprivatewealth.com