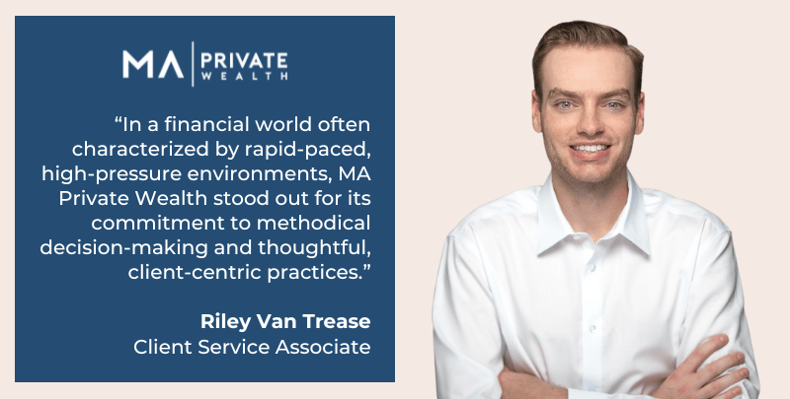 MA Private Wealth is delighted to welcome Riley Van Trease in the role of Client Service Associate. Riley comes to the team with an eagerness to support clients' needs and a dedication to delivering positive client experiences.
Riley is a recent graduate of the University of Nevada, Reno where he holds a degree in psychology, complemented by a minor in entrepreneurship. Prior to joining MA Private Wealth, Riley completed an internship with a Registered Investment Advisor (RIA) firm in San Francisco, where he worked closely with a team of financial advisors on client investment and financial planning accounts. This experience solidified his interest in pursuing a career in the wealth management industry.
Upon joining the MA Private Wealth team, Riley expressed his excitement about the company's core values and culture, which resonated strongly with his own. Reflecting on his decision to join MA Private Wealth, Riley shared "During the interview process, I was struck by the team's genuine kindness, unwavering support, and authenticity. In a financial world often characterized by rapid-paced, high-pressure environments, MA Private Wealth stood out for its commitment to methodical decision-making and thoughtful, client-centric practices."
As the new Client Service Associate, Riley is dedicated to delivering top-notch client service, aligning with the MA Private Wealth's core values of customer-centricity, simplicity, and effectiveness.
Born and raised nearby in Livermore, California, Riley has a deep love for the great outdoors and spends his time outside of work doing activities like snowboarding and golfing. He also enjoys spending quality time with his close family and his two cats, Mia and Bella.
To reach Riley Van Trease, please call 650.232.2021 or email riley@maprivatewealth.com.