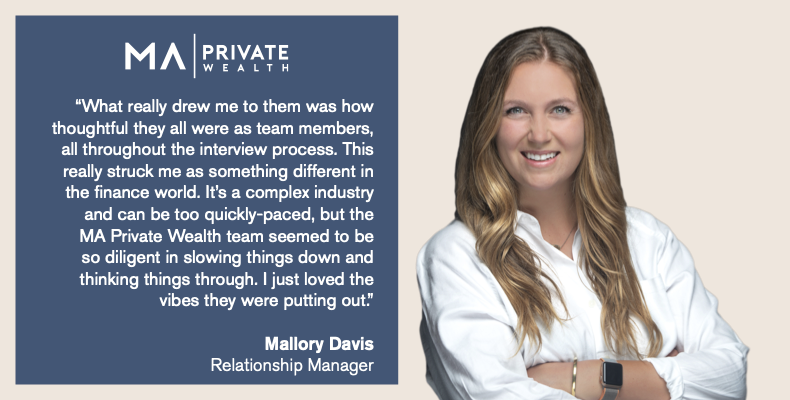 MA Private Wealth's newest team member, Mallory Davis, brings a unique blend of industry specific experiences to her client-facing role as Relationship Manager.
She has financial services expertise on the back-end, as an Investment Operations Specialist at one of the largest community foundations in Silicon Valley, and the front-end, as an Associate Wealth Advisor for a boutique firm in Salt Lake City.
"What really drew me to them was how thoughtful they all were as team members, all throughout the interview process," says Mallory Davis when asked about why she chose MA Private Wealth. "This really struck me as something different in the finance world. It's a complex industry and can be too quickly-paced, but the MA Private Wealth team seemed to be so diligent in slowing things down and thinking things through. I just loved the vibes they were putting out."
Mallory recently moved out to the Bay Area after a long tenure in Salt Lake City, Utah with her husband, their two children Archer (9) and Atlas (3), and a poodle-mix named Mia.
Mallory attended the University of Utah and earned two bachelors' degrees, one in Psychology and the other in Human Development and Family Studies. While in college and throughout her career, she has demonstrated a passion for early childhood development and social work, volunteering at a Child and Family Services Center to assist minors in times of trauma and crisis. While still in Salt Lake City, she also dedicated her time to helping at a community writing center, teaching high school students how to collaborate with one another and unleash their creativity as budding novelists and poets.
Following her undergraduate work, Mallory earned her Masters in Business Administration degree (MBA) from the University of Utah. She is now pursuing her Certified Financial Planner (CFP) designation, and she seeks to eventually become a Private Wealth Advisor. She is a strong advocate for women, particularly women in finance, and she strives to connect women with the right resources to help them succeed.
As Relationship Manager, Mallory leverages her background in handling trauma and her keen knowledge of the financial services industry to serve clients, particularly when the circumstances are less than ideal. "I like creating calm in chaos." reflects Mallory. "Sometimes a client will call me, and they are just really stressed out, overwhelmed by changes in their life or what's happening in the market. I can quickly make sense of the situation, simplify things, and help them find calm. I am proud of that."
Mallory and her family enjoy the Bay Area's proximity to so many different outdoor activities and parks to explore. On any given weekend, you can find them backpacking, hiking, camping, kayaking, trail running, or visiting the beach.
To reach Mallory Davis, please call 650.232.2021 or email mallory@maprivatewealth.com.