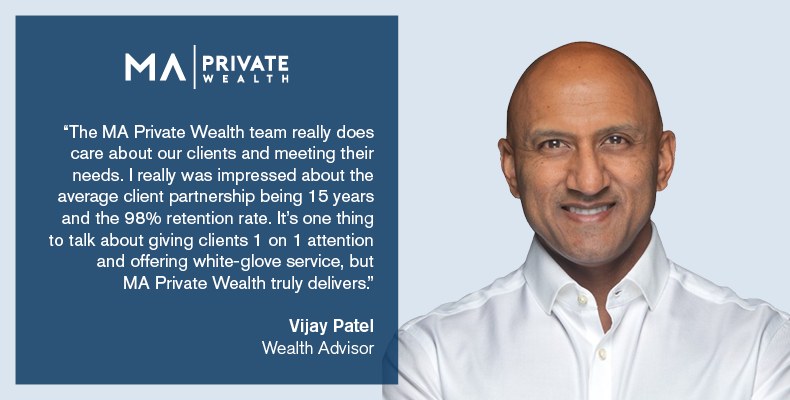 San Carlos and Campbell, CA - August 26, 2021 - MA Private Wealth announces a new partnership with Vijay Patel, a locally-based financial advisor with 23 years of experience in financial services, wealth management, and financial planning. Vijay is joining MA Private Wealth as a Private Wealth Advisor.
"We understand that advisors like Vijay are seeking platforms and partnerships where they and their clients can thrive," said MA Private Wealth CEO and Private Wealth Advisor, Marty Miller. "At MA Private Wealth, we are proud of our commitment to core values of simplicity, effectiveness, and customer-centricity. Vijay exemplifies these characteristics in his hard work and dedication to serving the needs of his clients. We are thrilled to have him join our boutique team of fiduciary advisors."
"They are just good people," said Vijay Patel. "They are knowledgeable and good at what they do, but they are also just good people. The MA Private Wealth team really does care about our clients and meeting their needs. I really was impressed about the average client partnership being 15 years and the 98% retention rate. It's one thing to talk about giving clients 1 on 1 attention and offering white-glove service, but MA Private Wealth truly delivers."
"We look forward to having Vijay join our team," said Erica Arroyo, MA Private Wealth COO. "His depth of knowledge and expertise will benefit all of our clients and support our efforts to simplify the complex in wealth management."
Vijay was attracted to MA Private Wealth, in part, due to their holistic approach in offering financial planning. He remarked, "I liked that MA Private Wealth was not just an investment advisor. As things get more complicated, clients need someone to help give guidance about their overall finances. I wanted a firm that allowed for that service."
Vijay studied Finance at San Francisco State University and is currently working toward the Chartered Financial Consultation (ChFC) designation. His main areas of focus at MA Private Wealth will be retirement planning and stock option/equity planning for Pre-IPO and public companies.
Vijay and his wife Reena are both Bay Area natives, and they have three children: a son and twin daughters. The family enjoys hiking in Pt. Reyes and Yosemite and anywhere in between.
To reach Vijay Patel, please call 650.232.2021 or email vijay@maprivatewealth.com.
PDF Version Available HERE